Yakult sponsored the 'Science Explained' category in the 2022 MJA Awards.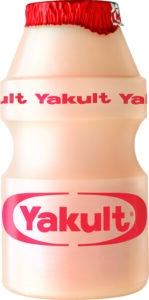 About Yakult
Yakult was developed over 85 years ago by the Japanese scientist Dr Shirota, who in the 1930s selected and cultivated L. casei Shirota, a unique strain of bacteria that is scientifically proven to reach the gut alive.
Every little bottle of Yakult contains at least 20 billion L. casei Shirota. Around the world, more than 40 million Yakult products are consumed every day, in 40 countries and regions. There are two products available in the UK and Ireland, Yakult Original and Yakult Light – the reduced sugar and fewer calories version, enriched with vitamins D & E.
Both products are gluten free, fat free and suitable for vegetarians. For more information, please visit www.yakult.ie or find us on Facebook (@YakultUKIE) and Instagram (@Yakult_UKIreland).
Yakult and Science
Science is at the core of Yakult and its products.
Yakut is committed to continuing the work started by its founder, the scientist Dr Shirota, who spent many years investigating the application of microbiology and, of course bacteria, to positively influence the future. Yakult's products and new developments are driven by scientific learnings, as was the case with Yakult Original, over 85 years ago.
Yakult keeps science at the core of its company through partnerships with external scientific and research institutions, but primarily through its own two scientific research centres:
The Yakult Central Institute in Tokyo which was founded by Dr Shirota himself in 1955 and has been operating ever since and the Yakult Honsha European Research Centre for Microbiology in Ghent, Belgium, where hundreds of researchers and members of staff are focusing on various fields including microbiology, nutrition, biochemistry, bioengineering, pharmaceutical or cosmetic, with the purpose of helping us to better understand the gut and the many possible uses of live bacteria.
The Yakult vision is to contribute to the health and happiness of people around the world through the pursuit of excellence in life sciences in general and research and experience in microorganisms in particular.
If you would like more information please contact or visit www.yakult.co.uk.