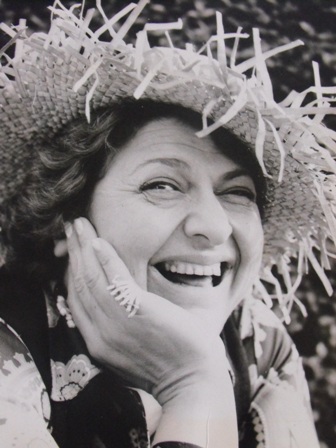 (Mike Smith's tribute appears in the December 2010/ January 2011 issue of MJA News.)
Last October the MJA lost one of its most distinguished members: Claire Rayner, OBE. Mike Smith, who knew her well, went to the funeral and was actually present on the celebrated occasion when she demonstrated how to use a condom on live TV. Other MJA members also recall a journalist and campaigner who influenced so many lives.
'What is success? To laugh often and love much, to win the respect of intelligent persons and the affection of children; to earn the approbation of honest critics and to endure the betrayal of false friends; to appreciate beauty; to find the best in others; to give one's self; to leave the world a bit better, whether by a healthy child, a garden patch or a redeemed social condition; to have played and laughed with enthusiasm and sung with exultation; to know even one life has breathed easier because you have lived, this is to have succeeded.' 
These were the opening words at Claire's funeral on October 19.  Ralph Waldo Emerson might have written them with Claire in mind. They could not have been better chosen for the glowing, energetic, enormous personality who had been my friend and mentor for 40 years.  
We were accompanied in – but especially out – of the humanist ceremony by a New Orleans jazz band. This was, and characteristically so, Claire's wish. It was also her wish that only close family and friends should be present. Since she had many close friends, a goodly-sized gathering was there to cheer her on. The upbeat, humorous reflections presented at the ceremony – especially, but not only, by her offspring – confirmed the wide spectrum of her influence: young and old, rich and poor. No wonder all the media counted her death as news.
Claire joined the MJA some time in the 1970s. Former MJA chair, Ronnie Bedford, served on the committee with her (1976-78), just ahead of me. He says, 'One did not "meet" Claire Rayner, with or without an appointment. She materialised before you, sometimes preceded by a kind of foghorn "Hello" that spoke volumes in more senses than one.'
Ronnie's image conjures up my first meeting with Claire.  Early in the 1970s I was working full-time for the Family Planning Association (FPA), and our consumer leaflets were getting public criticism.  We invited Claire, plus some influential clergy, onto a panel to oversee our work. I was there to meet and greet when she arrived.  She flowed  into the room like a yacht in full sail with the wind behind, spinnaker set. 'Hello luvvy, I'm Claire Rayner,'  she said.  'Do you mind if I smoke?'  And she took out a large cheroot.  I was transfixed from then on.  To quote Ronnie again: 'She smashed taboos and demolished dragons' – and gathered devoted admirers.
You can read about the tough, East End childhood in the newspaper obits: a scholarship to the City of London School, being carted off to Canada in her teens, getting ill, coming back to England alone, getting into the Royal Northern School of Nursing and gaining a gold medal in her final SRN exam. It's all in her last book, her autobiography (2003), How did I get here from there?, just republished in paperback by Virago. By that time she had published 94 books (fiction and non-fiction) in 22 countries.
She started writing in the medical (Pulse), and nursing press in the 1960s. By 1966 she emerged in her most enduring persona as 'agony aunt', her columns continuing in Woman's Own or Woman until 1992. But she was also a natural broadcaster and presented many popular TV and radio programmes. In the 1970s she invited me to join her in a discussion on contraception on BBC's Pebble Mill at One which has gone down in history. Contraception was still risky stuff in those days.  'Don't mention condoms,' whispered the producer as we were about to go on air. 'Call them "male methods".'
What a gift for our Claire! In those days programmes used to go out live and, as the cameras began to roll, she produced a model of a large wooden penis and, looking directly into the camera, explained exactly how to put on the 'male method' of contraception. Behind the camera a red-faced producer mouthed 'OK; call it a condom.' It was just one of a trail of 'smashed taboos'. (More memories of Claire on the MJA website, www.mjauk.org.)
In1996 Claire was awarded an OBE 'for services to women's health'. Her entry in Who's Who runs to over 700 words. The list of non-executive directorships, governmental committees, charities, honorary degrees and presidencies are witness to her enduring need to help others. She cared passionately about the NHS and the patient's point of view, and was a leading light of The Patients Association for over 30 years, becoming first chair, then president – a post she held to the end.
She told her relatives she wanted her last words to be: 'Tell David Cameron that if he screws up my beloved NHS I'll come back and bloody haunt him.' The Prime Minister was questioned in the House about Claire's words. His reply was drowned by ghostly howls from the Labour back benches.
She has her eye on you, Prime Minister.  What a woman!
(Ronnie Bedford, OBE was MJA chair 1977-81 and science editor of the Daily Mirror, 1962-85. His tribute appears here in full.)
One did not 'meet' Claire Rayner, with or without an appointment. She materialised before you, sometimes preceded by a kind of foghorn call, a 'Hello' that spoke volumes in more senses than one. Claire was life made flesh, wide in experience, generous in sharing, ferocious in saying what she thought. In short she was, to those in adversity, just the one you wanted to have in your corner.
My first encounter with her was in the Seventies, at the annual springtime congress held by the Royal Society of Health at one or other of the genteel South Coast watering holes, like Eastbourne or Torquay. Claire had yet to arrive at her pinnacle as the nation's much-loved agony aunt. (I prefer the term 'sob sister' used in the United States to describe this branch of journalism, on the grounds that the reader is more likely to spill the beans to her sister than to her aunt.) At the time of our meeting she was writing for one of the nursing journals. It was at the midwifery session that I was able to tap into her storehouse of knowledge of this specialist subject as she explained to me some of the finer points while she was taking notes in longhand, scribbling into a large notebook.
A decade would pass before I came once more into regular contact with Claire as a fellow member of the MJA. (Claire served on the MJA committee from 1976-78 and was made an honorary member in 2008.) She was now in her prime – agony aunt to millions, a successful author and broadcaster on radio and TV. Her standing was anchored on her advice pages where, without fear or favour, she smashed taboos and demolished dragons.
In the days when even the so-called gossip pages were more mealy-mouthed than now, I remember one of her outspoken comments: couples could judge whether their relationship was successful or not, she said, by the times they farted together, rather than by the times they went to bed together. At the stroke of her pen she demolished that particular corner of prudery, and she was in good company. After all, according to John Aubrey, it was Queen Elizabeth 1 who comforted the elderly Early of Oxford by telling him 'My Lord, I had forgot the fart', forgiving him an indiscretion seven years earlier.
Main Image: