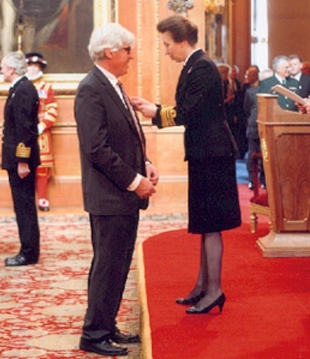 Jerry Cowhig, a former chair and honorary secretary of the MJA, was named in the Queen's Birthday Honours list this summer. He was made a Member of the Order of the British Empire (MBE) 'for services to science'.
Jerry received the award from the Princess Royal at Windsor Castle on October 5, by chance his 65th birthday and the day of his retirement. For the past 15 years Jerry was managing director of IOP Publishing in Bristol, the publishing arm of the Institute of Physics.
After a brief spell as a university lecturer in nutrition, Jerry's first writing/editing job was in 1971 on the weekly part-work encyclopaedia Mind & Body. Then in 1972, aged 26, he was appointed editor of the doctors' weekly newspaper General Practitioner at Haymarket Publishing, where he stayed for 23 years, progressing to editorial director of MIMS, Medeconomics and other medical titles, eventually becoming joint managing director of the medical division.
His move to IOP Publishing in 1995 took him from magazines to journals and from London to Bristol. During his tenure the company saw a large expansion in its scientific publications and now produces more than 60 journals. He served on many publishing bodies, including the International Association of Scientific Technical and Medical Publishers.
On receiving the award Jerry said, 'I feel highly honoured and at the same time embarrassed to take credit for the success of IOP Publishing because it is down to a team effort.'
Jerry joined the MJA in 1971, becoming its 100th member. He served on the MJA committee for many years, as honorary secretary in the late 1970s and as MJA chair from 1982-86. The MJA recognised Jerry's contribution to journalism and to the association by voting him an honorary member in 2003.
Not many people know it, but Jerry is also a keen musician. He was a choirboy in his youth, and developed into a counter-tenor as an adult. Currently he sings with the choir at St Mary Redcliffe, Bristol. ■
Main Image: