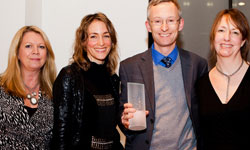 Why are we still using electroconvulsive therapy? a Newsnight film made by Jim Reed and James Clayton took the new award for a short medical science film at the MJA Winter Awards.
In the UK, around 4,000 people a year have the treatment, which involves passing an electric shock through the brain to trigger a seizure.
Presenting the prize, judge and independent film-maker, Dominic Byrne, described the film as  '…well-crafted, balanced discussion with good access, fluently told and beautifully shot'.
The awards ceremony, was compèred by Colin Blakemore, professor of neuroscience and philosophy in the School of Advanced Study, University of London, and professor of neuroscience at the University of Oxford, and held at BMA House in London on January 30.
BBC Radio 4 programme, Surgeons under scrutiny, from Matthew Hill and Daniel Tetlow, took the award for investigative reporting/scoop (consumer media). The programme had 'a strong focus on how things could be improved, and powerful but measured use of first-hand accounts,' said judge Michelle Dixon, director of communications for the BMA.
The Guardian's Denis Campbell won the interview award for one with Bruce Keogh, medical director of NHS England, and Anne Wollenberg's My battle with motor neurone disease – Neil Platt's last interview, won the new Personal story award which also appeared in The Guardian.
Robin McKie's Could this fish be a cure for cancer? in The Observer won medical science explained. 'a fascinating primer on genetics, bioinformatics and models of disease', said judge Sile Lane, from Sense about Science.
The award for investigative reporting/scoop (professional media) went to Jaimie Kaffash for an article in Pulse: Leaked report casts doubt over NHS Direct's 'overall viability' in wake of NHS 111 failings.
A new award for a column or opinion piece was taken by Rob Galloway – The A&E doctor who says bringing the elderly back from death can be cruel and pointless. The piece was written under the pseudonym Dr Nick Edwards for the Daily Mail.
The excellence in journalistic skills award was won by Vivienne Parry with The Enemy Within – 50 years of fighting cancer, a film produced for Cancer Research UK and Roche.
Another new award was given for a local health campaign and was won by Adam Gretton for his Ambulance Watch campaign in the Eastern Daily Press. 'Great tenacity,' said judge and former award-winner Adele Waters. 'Just the sort of journalism we should be encouraging.'
Individual winners received £750 and an inscribed certificate. Inscribed trophies were also presented to the short medical film team and for the local health campaign.
The following entrants were commended in the MJA Winter Awards –
o   Investigative reporting/scoop (consumer media): Denis Campbell, Adam Gretton and Kate        Kelland
o   Investigative reporting/scoop (professional media): Sarah Calkin and Gemma Collins
o   Interview: Jasmine Gardner, Kate Kelland and Catherine de Lange
o   Medical science explained: Linda Geddes and Lin-Nam Wang
o   Personal story: Max Pemberton and Lin-Nam Wang
o   Local health campaign: Dorothy-Grace Elder and Caroline White
o   Excellence in journalistic skills: Trisha MacNair and Richard Vize
o   Short medical film: Lisa Desai and Yasmeen Qureshi, and Martin Freeth
Thanks go to this year's MJA Winter Awards sponsors: Astellas, the BMA, GlaxoSmithKline, Lilly, Merck Sharp & Dohme, Novo Nordisk and Roche, also to award organisers: David Payne, Philippa Pigache, Rachel Vrettos and Simon Warne.