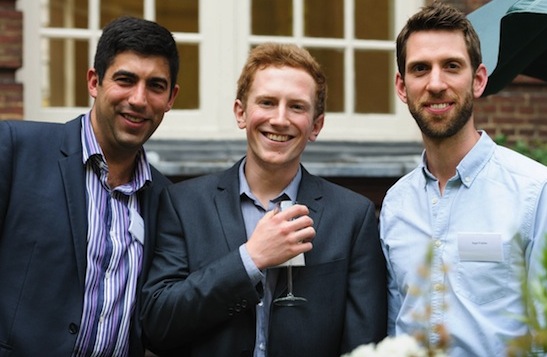 Pulse editor Nigel Praities, took editor of the year, and reporter Alex Matthews-King won story of the year — Care-data — at the 2014 Medical Journalists' Association Summer Awards.
Praities, joined Pulse in 2007 and was appointed editor this year after being deputy for two years. The judges said of his entry, '… riveting content… good campaigning style … powerful, but uncluttered design which supports stories and maximises the potential of hyperlinks'.
Matthews-King joined Pulse in November 2013 after having studied Zoology at Sheffield University. The judges described his entry as: 'One of the few truly balanced pieces ..representing both sides … but skilfully playing one off against the other.'
A new award for digital innovation was taken by a team of journalists, designers and developers at BBC Visual Journalism, led by James Gallagher. Accepting the award Gallagher said that it was an honour to accept the award on behalf of a team, '… who took the initial idea for exploring the body clock, and transformed it into a magnificent piece of interactive content'.
Other award winners were Sarah Boseley of the Guardian who took consumer staff journalist, and Rachel Pugh who took consumer freelance. In professional media, Shaun Lintern of the Health Service Journal took the award for a staff journalist, and Jonathan Gornall the one for a freelance. The Regional journalist award was won by Matthew Hill with work for BBC Points West  and the young journalist award was taken by Susannah Butter from the Evening Standard.
Individual winners received £750 and an inscribed certificate. There was an inscribed trophy for the Digital innovation team.
Commended entries
Freelance journalist (professional media): Asha Fowells and Ingrid Torjesen
Staff journalist (professional media): Gareth Iacobucci and Jaimie Kaffash
Consumer freelance: Jerome Burne, Martha Roberts and Patrick Strudwick
Consumer staff journalist: Chris Smyth (The Times) and Clare Wilson (New Scientist)
Regional journalist: Lawrence Dunhill, Lauren Everitt and Adam Gretton
Young journalist: Sarah Calkin and Alex Matthews-King
Digital innovation: Denis Campbell, George Arnett and Mona Chalabi (the Guardian), GP iPad app team, and Branwen Jeffreys, John Walton and Patricia Whitehorne (BBC News)
Editor of a medical or health publication: Max Pemberton, Spectator Health, and Ingrid Torjesen, The Advisor
With thanks to our Summer Awards sponsors: Boehringer Ingelheim, AbbVie, Astellas, GlaxoSmithKline, Lilly, Merck Sharpe & Dohme and Roche