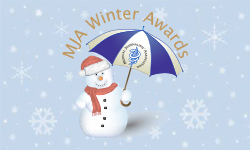 Entries are now being accepted for the Medical Journalists' Association Winter Awards for 2015. There are 10 categories and 11 awards, which include awards for general and specialist media, broadcast and data journalism and the Tony Thistlethwaite book award.
Individual winners will receive £750 plus a certificate at the awards' ceremony at BMA House, on February 5 — which will be presented by Tourettes hero, Jess Thom. And if you'd like to know why she's a hero, have a look at Jess's Ted Talk.
The deadline for entries is 7pm on Sunday, November 30, 2014. 
Needless to say, even if not specified in the title, all material should be health- or medicine-related. The categories are:
Investigative reporting – An old-fashioned scoop? The shocking results of undercover filming? Or fascinating analysis after weeks of FOI requests? These and more qualify for this category. Two awards will be presented; one for an entry aimed at a general audience and a second for work designed for a specialist audience.
Broadcast feature – Radio or TV; no time limit.
Column or opinion piece – This covers humour, personal opinion, trenchant or provocative comment, published in print or online, including blog posts linked to an established title.
Data journalism – The judges will look for compelling examples of infographics and other interactive resources. Entries could be the results of one or more datasets combined in new and interesting ways, or the use of software applications to reveal connections that become the basis of an investigation. Background information will be helpful.
Health education – Non-bylined work from those working in health education, public or press relations can be entered. (Entries for this award received in the past were mostly educational.)
Personal story – An account of health experience, either a first-person piece or ghosted.
Profile – Interview with a health or medical figure. The judges will look for something in more depth than a feature with added quotes.
Science explained – Self-explanatory.
Video journalism – The judges will look for strong themes, creatively explained, with striking visuals and deft editing, using video's potential to entertain and bring complex medicine to life. Entries could be stand-alone films or supplementary, embedded files in an online article. (Time limit: 15 minutes.)
Tony Thistlethwaite Award – On alternate years the MJA offers this award for a book on health or medicine written for the general reader, and by an MJA author. Books should have been published in the UK between November 2012 and December 2014.
Who and what is eligible?
MJA Winter Awards are open to all, with the exception of the Tony Thistlethwaite Award, which is for MJA members only. Non-member authors may apply to join.
Non-members of the MJA are asked either to pay a one-off entry fee of £20 or, if eligible, to apply to join the MJA, paying an upfront annual subscription of £40. This makes them entitled to enter future MJA awards free. Only one entry fee per entrant is payable, even when submitting to several award categories. Details of how to pay a fee or subscription are on the entry form.
All submitted material, with the exception of books for the Tony Thistlethwaite award, must have been published or broadcast between November 30, 2013 and November 30, 2014. It must not have been submitted in previous MJA awards, nor can the same material be submitted in two or more categories of the current Winter Awards.
Only one piece of work should be submitted for each entry. In this, the Winter Awards differ from those the MJA makes in the summer, when they are for a body of work.
Editors, including MJA members, may enter the work of another journalist for an award, provided they are not also entering their own work, in any category. Contact details for the work's author must be provided and, of course, his or her permission must be obtained.
What should you submit?
If you are submitting online, please provide a PDF or URL link for each article or broadcast item. URL links

alone are sufficient

provid

ed

the entry is bylined, and not behind access controls. 
If providing PDFs, please label each one clearly with your name and the category in which it is entered: e.g. robinsmith/Investigative reporting. Please do not submit PDF or other files larger than 8MB electronically.
You may submit hard copy by post in the form of print or DVDs but you must fill in the online entry form. Please send three copies of each article, programme or book that constitutes the entry, to Simon Warne, Red Door Communications, Spencer House, 23 Sheen Rd, Richmond, Surrey TW9 1BN. Use the text box beneath the file upload boxes on the entry form to say if you are sending hard copy.

 
All entries have the option of an added short (200-word) contextual background statement. There is a text box for this under the file-upload boxes on the entry form. It would be particularly useful to know details of source data in the Data journalism and information on the use and success of the Video journalism entries.
IMPORTANT: you must include a separate entry form for each entry.
IMPORTANT: non-members' entries will not be processed unless either an entry fee has been paid, or an application made and subscription paid to the MJA at the time of submission.
Closing date: 7pm on Sunday, November 30, 2014 
What happens after you have submitted your entries?
Judges' names will be announced on the MJA website.
Shortlists will be posted on the MJA website by the end of December and in the winter issue of MJA News. Winners will be announced at the awards ceremony in London in February, to which all shortlisted entrants will be invited.
Individual winners will receive a cheque for £750 plus an inscribed certificate. Commended entries will receive certificates.
Any queries, contact email awards organiser David Payne.
With thanks to awards sponsors:
ONLINE ENTRY FORM