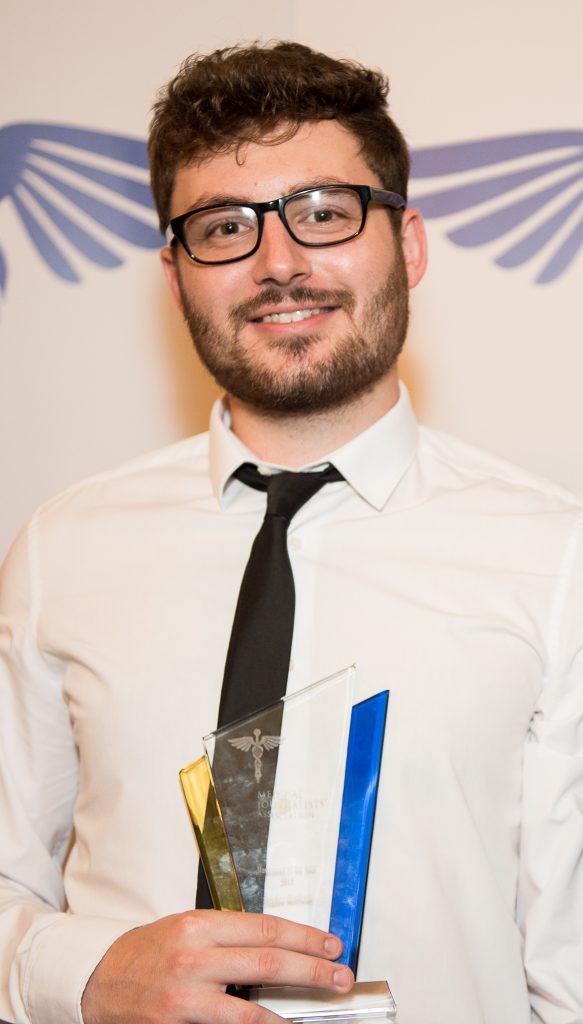 In the first of what will be a series of stories, Stephen Matthews, the 24-year-old editor of MailOnline Health explains how he got a start in health journalism, and offers some insights on how to break into an increasingly competitive profession.
Stephen  heads up a team of four journalists, who are responsible for producing more than a dozen global stories every day — from Ebola outbreaks in the Congo to Alzheimer's breakthroughs and unusual case reports.
He and his team have broken several national stories including: Amazon selling bogus homeopathic 'remedies' containing saliva from rabid dogs and the discharge of men with gonorrhoea; illegal teeth whitening kits being sold online in the run-up to Christmas despite containing a banned chemical; and the announcement of the first CQC-approved cannabis clinic in the UK.
In 2017 he won the MJA Newcomer of the Year Award for his story on 'cruel' plans by the Richmond CCG in southwest London to ration IVF to just HIV patients and cancer survivors left infertile after treatment.
Here, he talks about getting his foot in the door of health and medical journalism:
'Desperate for a life of being paid to watch football, I chose to study sports journalism at the University of Bedfordshire. However, my first experience of the industry was covering local news in my home town (Kettering) on a website I created out of frustration at not being able to get any proper work experience.
'After a while, I was offered shifts at my local paper, the Northamptonshire Telegraph, as well as the opportunity to cover professional rugby. But gradually I began to get bored — one team always won, and the other lost. Robbed of my passion, I began looking at other opportunities when I finished university, including potentially being a mechanic.
Medical PR agency
'By chance, I was offered a part-time job in a small medical PR agency, which I was able to do alongside the third and final year of my degree.  When I graduated with a first, I decided to stay on with them and quickly found myself enjoying the health beat. No day is ever the same in health, there are hundreds of topics that scientists have barely scratched the surface of, with new discoveries all the time.
'Through that firm, I met another PR agency which was run by health journalists, who both fully supported me in my determination to move into national journalism. They recommended me to a former colleague of theirs who was then editing MailOnline's Health section. I grabbed the chance to cover some holiday, moved down from Northamptonshire to London when I was given the chance to work shifts and have never looked back since.
Extra hours
'In the early days there was a lot of blood, sweat and tears, combined with some luck, too. Right from the start I decided to put in a lot of extra hours, which I believe is essential when you are learning the ropes and trying to embed yourself in as part of the team. It actually stood me in very good stead as not long into the job, every member of the team departed at once and I was left holding the fort by myself as acting Health Editor just three months after graduating.
Despite finding it pretty scary, I seized the opportunity to learn as much as possible, fully accepting that I was going to make mistakes in the process. Sure enough, I was often on the receiving end of many well-deserved bollockings. Gradually, however, I built up my experience and contacts, which in turn brought in – and still does bring in — great stories. Now I have a really good team around me it makes life a lot easier. I am really proud of the high quality of the stories Sam, Ness, Connor and I run every day.
'For any aspiring health journalist out there, my key advice would be to never give up. Also, humility is essential. You will get told off, you will make mistakes, and you don't know best — regardless of what you think. Stick to your instinct on a story, but never push an angle too far, in health journalism your words really do have an impact on the lives of readers.
Build your portfolio
'If you are a student journalist trying to make your name in the industry, consider some projects in your spare time to build up your portfolio. Keep emailing asking for work experience and shifts. It isn't going to be an easy ascent but heath journalism is a brilliant area to work in and there are plenty of opportunities and platforms to shine, if you are prepared to put the effort in.
'Also, there are some great people around who only want to help you on your way, so don't be afraid to ask for advice. The MJA is a good place to start. Health journalists are a pretty good bunch and we all tend to stick together and help each other out. I have made some great friends over the last four years and had a lot of fun. I can thoroughly recommend health journalism to any young journalist looking to specialise — I promise that you will never be bored!'