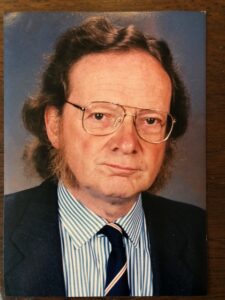 Lawrence McGinty remembers a legendary health journalist:
Bernard Dixon, who died on 30 October, was my editor at New Scientist for seven years, during which time I learned my trade as a journalist. He was an extraordinary editor, nurturing the talent he brought to the magazine with great care and creating a magazine that became the voice of science to the general public. 
But it wasn't an uncritical voice. For Bernard, science was part of society and he placed it firmly in that context, hiring and encouraging writers who focused on issues like the environment, consumer electronics and the role science played in politics. 
After a youth spent playing practical jokes and making bombs in his garden shed — which he then exploded in a local park — Bernard studied microbiology at Newcastle University. Much later that stood him in good stead when he  campaigned against the misuse of antibiotics and the dangers of creating drug resistant bacteria. The government set up a committee and its recommendations led to real change. Few journalists can claim such victories. 
Bernard's first job in journalism was at World Medicine, a free magazine for GPs. He followed his editor, Donald Gould, when Donald became editor of New Scientist, and then succeeded him as editor. He transformed the magazine, turning round a falling circulation and making it the science magazine in the UK. After a decade in charge, he left to go freelance and wrote two excellent books: What is Science For and Beyond the Magic Bullet. 
Bernard was also great fun. He had a lifelong interest in Scottish music (of the Jimmy Shand variety), playing accordion and piano. At New Scientist, he ran a weekly comic strip by Bill Tidy and hired David Austin to make pocket cartoons. He also hosted the best Christmas party in town, financed by spurious claims on the staff's expense accounts. 
He was, in short, a great editor and a great guy.