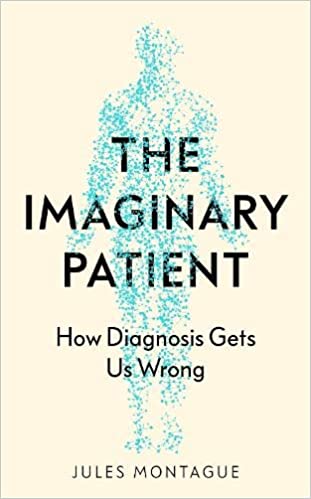 The Imaginary Patient: How Diagnosis Gets Us Wrong by Jules Montague
Review by MJA member Catherine Carver
When we visit a clinician, we entrust them with stories of our physical, mental, and social experiences. They combine our narratives with test results, filter it through their own knowledge and experience, and then offer us in return a label to attach to our stories. This label, or diagnosis, can be a relief because it can enable access to treatments, to cures, to understanding and acceptance. However, a diagnosis can also bring stigma, be a tool for social control and even lead to serious physical harm. In The Imaginary Patient: How Diagnosis Gets Us Wrong neurologist Jules Montague offers a thoroughly researched account of the darker side of diagnosis, delving into the failings and fallout that can come with medical labeling.
The Imaginary Patient offers readers a wealth of fascinating stories, pulling historical oddities from the past like spermatorrhoea, a potentially lethal condition involving excessive discharge of semen which preoccupied 19th century medical professionals before being debunked. It also explores the challenges brought by cutting edge discoveries such as the risk-based diagnoses birthed by modern genetics. Such stories richly fill the pages of the book and will leave even committed medical nerds with something new to reflect on and share.
However, the strongest sections in the book are those dedicated to the devastating way diagnosis has been used to legitimize racism and homophobia. In these sections Dr Montague weaves together extensive research with interviews she has conducted with people with lived experience of the weaponization of diagnosis. The result is a compelling basis for change, and the author closes the book with some useful suggestions on how to achieve that.
One approach that would have made the book stronger would have been greater reflexivity. As the book makes clear, diagnosis reflects not just science but society. Likewise, authors research and write a narrative that reflects a world seen through a particular prism of experiences. Moreover, interviewees' responses can reflect how they view their interviewer. The book would have benefitted from more critical thinking about how the author's experience of having been a doctor shaped the narrative. For instance, it perhaps explains why the text is frequently at pains to take a positive view of the medical profession. Statements include "it is frequently those outside the medical establishment who grievously leverage the power of diagnosis – the families of patients, the church, and the commercial companies that hover in the background." Moreover, the quote on the back suggesting it was a revelation that a diagnosis was not as straightforward as it seemed and might carry harm, belies a medical outlook. Many patients and patient organisations across a diverse array of conditions have been abundantly aware of this for decades. Having a doctor's perspective on the thorny issues the author so diligently researched is fantastic, but the book would have benefitted from some thoughtful reflection on the fact it is a doctor's perspective upfront.
Overall, this is a richly researched book that provides ample food for thought and ammunition for change in the way diagnosis is done.
Published by Granta May 2022 | Hardback: £18.99 | Ebook: £18.99
ISBN-10 ‏ : ‎ 1783785845
ISBN-13 ‏ : ‎ 978-1783785841