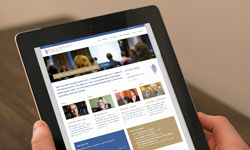 I have long been an admirer of the wit and wisdom of David Olivier — or @mancunianmedic as he is known to his followers on Twitter.
David's articles for the BMJ, Guardian and others have combined intellectual insights with the visceral reality of healthcare in the real world. He's also great to have on your MJA quiz team.
Like many members, earlier this year I was delighted to hear David had been elected President of the Royal College of Physicians, and was looking forward to seeing what this would bring.
But, as David announced on Twitter, and via a press statement from the RCP, he is stepping back from that post, and also from the NHS frontline.
If you have not already read it, please read David's own words, published in the BMJ. As someone who deals with words, not life and death, it is difficult to comprehend a life lived in such close proximity to death. And I cannot begin to imagine the toll that more than two years on a 'hot' Covid ward must take.
As someone who grew up in a country that doesn't have an nationalised health service, where an ambulance subscription was one of the first things you bought when you got your first job, I am in awe of the NHS.
I have had treatment for rheumatoid arthritis, two children — both complicated pregnancies — a comprehensively broken ankle and pneumonia requiring IV antibiotics. Anywhere else in the world that would have left me with a huge financial debt. But thanks to the NHS and all those who are keeping it alive, all I have is a debt of gratitude.
David, and his many colleagues, are all heroes — and as he says, they deserve much more than a medal.