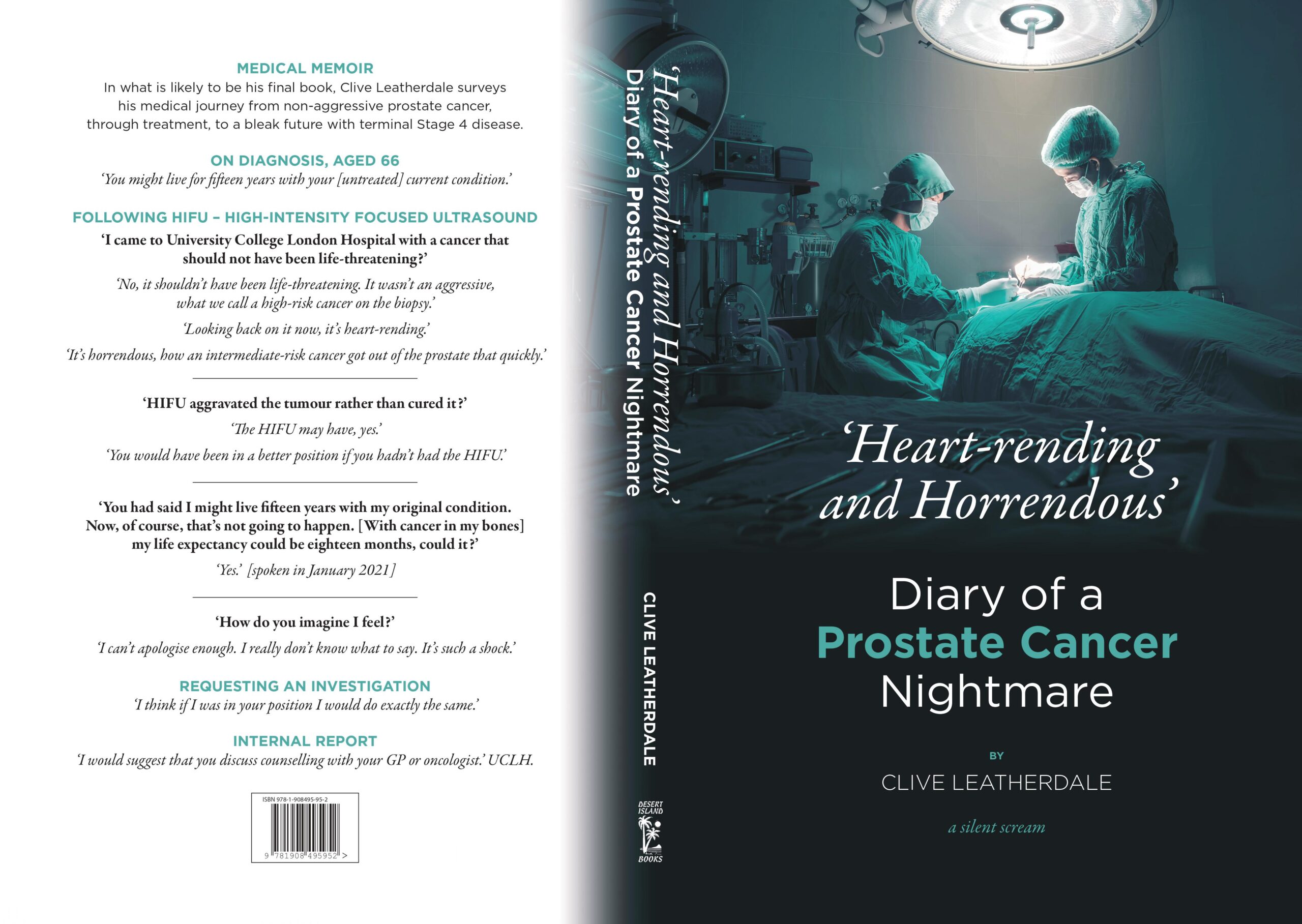 Have you ever thought about how you would feel or what you would do if you were told that you had a terminal illness? It would be a life changing point that you had never experienced before, with life never being the same afterwards. Your actions, priorities, and decisions would be different.
"Heart-rending, and Horrendous," those were the words that the doctor used to express his impression about the change in the nature of Clive's Prostate cancer from what was supposed to be a benign disease into a monster that would end his life in 18 months.
In his book "Diary of a Prostate Cancer Nightmare," Clive Leatherdale shares his diaries from 13th February 2007 when his story with the Prostate Cancer began till May 2022 at the age of 72. A Personal diary that is full of events, emotions, thoughts, and decisions that you might agree or disagree with.
Clive did not mind the readers forming an opinion of what he did at any point as that is the point behind the book. It is a full personal experience that he wanted to share with the readers to let them know how it would be with such a decisive event.
Clive starts his book with an introductory chapter to tell us an outline of himself, the story of his illness, and ends it by explaining his diaries by saying "What follows is not a story with a beginning, a middle, and an end; far less is it a novel. Nor is it an investigation or an analysis. Instead, I will present a series of diary extracts".
So, it is simply A Diary which, according to Clive himself, offers little opportunity for reflection or amendment, and he did not enhance any of them after writing which gives them the power of genuinely sharing his thoughts and feelings with us and this is the main purpose of this book. However, Clive has used his previous experience in writing and publishing books by inserting linguistic bridges and linking entries to help the flow of his words which worked perfectly fine as you would not feel bored reading his diaries.
Although not being a story, Clive's experience with the catastrophic disease goes on a progressive curve from the day he was told that he has a slight increase in his PSA result, till the day he was told that he was expected to live only 18 months old in the best scenarios. An experience that is full of hope, disappointments, crucial moments, and critical decisions which you might agree or disagree with. etc. with a full list of lessons to learn from.
The book then ends with an appendix that includes Clive's investigation reports and correspondences with his care providers. Being a medical professional, I found reading those correspondences useful as they were written in a highly professional manner. However, I am not sure if they are something to attract non-medical readers to go through.
There are several benefits that anyone can get from reading Clive's book.
As a doctor, I feel that I can understand my patients much better now, their needs, expectations, and the effect of the ongoing health issues on their lives, not to mention when it is a critical illness. Furthermore, I am sure that I can involve them in the decisions related to their health more effectively now, I learned to focus on achieving a balance between what they need and expect to know on one hand, and what I need to tell them on the other hand. On top of all those lessons, I will always remember that patients will appreciate the diligent care they are given no matter how ill and frustrated they are.
All readers will have a precious experience about how to manage a critical life situation in general, and how to manage a critical illness which is something that we all would probably face at some point in our lives either with ourselves or our beloved ones.
In conclusion, there are two ways to learn how to manage a difficult life situation and get prepared for it. The first way is by using our own experience from going through a similar situation in the past, or by learning about it from someone who has gone through it. One can learn from others' good decisions as much as learning from the decisions that could have been better.
If you are interested in a new life experience, then "Diary of a Prostate Cancer Nightmare" by Clive Leatherdale is a book that I recommend being on your reading list.
Published by Desert Island Books Ltd, July 2022
ISBN: 1908495952 
Find out more about the author Clive Leatherdale
With thanks to Aladdin Alswaifi for this review.