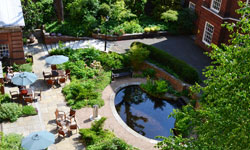 Remembering MJA member Laurence Dopson, 1924-2012
Laurence Dopson, who has died at the age of 88, joined the MJA so long ago that the record is lost in the mists of time, and filing. He enjoyed a career in medical and nursing journalism spanning over 65 years. He witnessed the end of the Poor Law era in 1948, and was still writing on the contemporary NHS until shortly before his last illness.
His original career aim was to be a doctor, but he had to leave Edinburgh University for health reasons. Medicine's loss was nursing's gain, when the chance discovery of a vacancy as a reporter with the Nursing Times led to some freelance work followed by a permanent position. He was proud to have been the first man to be a member of the editorial staff of a nursing journal in Britain. No two days were ever the same and he learned to 'always wear your smartest suit, because you never know when you'll be sent on a royal visit'. Equally at home interviewing ward nurses or the 'great and good', he managed to coax notable insights from former prime minister Harold Macmillan and Dame Cicely Saunders, the founder of the modern hospice movement.
A week ago the Nursing Standard, where Laurence was a regular contributor to the last, republished some of his best work as obituarist and reviewer. Assistant editor Roger Evans says he will be sorely missed. The funeral took place in Taunton, Somerset on Wednesday, July 4.
MJA News is indebted to John Adams of Anglia Ruskin University for most of this tribute, which also appeared in Nursing Standard.