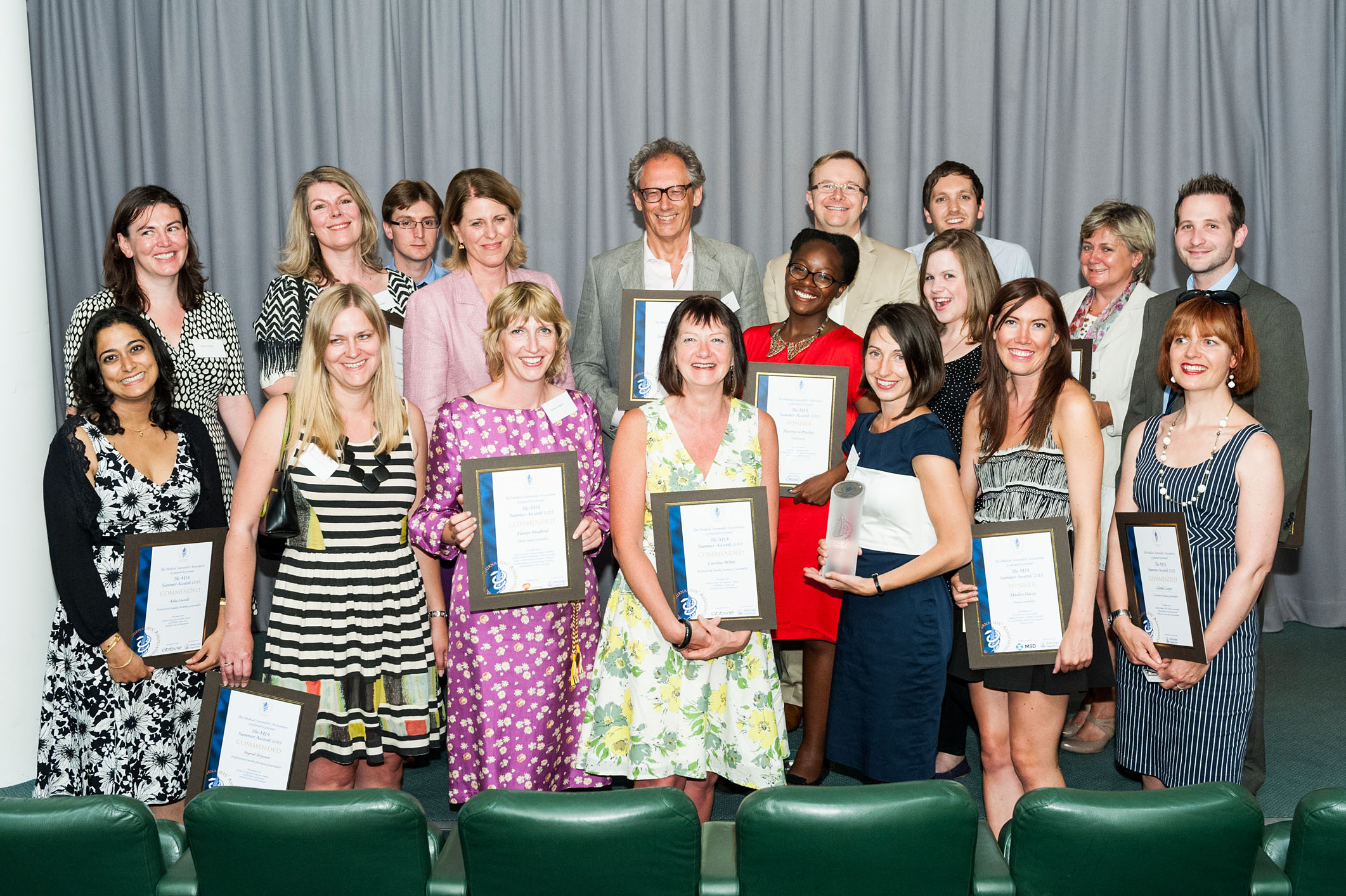 Nursing in Practice won Publication of the year in the 2013 MJA Summer Awards, presented at the Royal Society of Medicine in London, on July 9. The bi-monthly, free print magazine and website is aimed and circulated among nurses working in primary care. Judges, said that that it was '…clear and authoritative, while remaining lively and interesting – a good mix of journalism and scholarly content.'
The award for Multi-media journalist of the year went to the doyen broadcaster Lawrence McGinty who has been reporting science and medicine for ITN/ITV news since 1982. Judges said, 'Lawrence's entries were an amazing series of reports that showed the reality of the current transplant situation in this country. Highly emotional and thought provoking and impressively effective.'  McGinty was unable to receive his award in person but commented on hearing the news, 'Having reached pensionable age this year, I briefly considered retiring. But then winning this award was just brilliant and confirmed my decision to stay on at ITV News."'
The award for Consumer staff journalist went to Laura Donnelly, writing for The Telegraph and Sunday Telegraph. The judges said Donnelly's '…good all-round campaigning news stories were really thorough and told with flair'. Freelance consumer journalist was taken by Jerome Burne for 'consistently strong, well-researched and thoughtfully presented' articles. Kathryn Bingham won Online innovation for work on the website NHS Choices which, the judges said '…was informative, engaging and well-produced'.
Awards for journalists working in professional media went to staffer Dave West of the Health Service Journal, and to Richard Vize as a freelanceworking in this sector. An award, new this year, for a young journalist, went to Madlen Davies, working on Pulse. The judges praised Davies for, ' headline-grabbing, research-based stories … well written and offering convincing depth of analysis.' Another new award for 2013 was for Story of the year. This went to Max Pemberton of The Telegraph, for NHS reforms: from today the Coalition has put the NHS up for grabs (01 April 2013). The judges said: 'Max's story was a beautifully crafted assessment of the impact of the Health & Social Care Act, making strong and striking use of first-hand knowledge and providing hard-hitting examples to made general concerns real and urgent'.
This year individual award winners received cheques for £750 – a 50 per cent increase on earlier years. This year's judges were: Adam Brimelow, BBC health correspondent; former Times health editor Nigel Hawkes; Hilly Janes, writer, editor and consultant; Michelle Roberts, health editor for BBC News online; Linda Gummery, communications consultant; Professor John Underwood, director of the centre for health communication research & excellence, Buckinghamshire New  University; Daniel Cressey, news reporter on Nature; Geoff Watts, science and medical writer and broadcaster; Tim Dean, editor of Prescriber; Dr Keith Hopcroft, GP, author and columnist; David Payne, editor of bmj.com; Dr John Lister, senior lecturer in health journalism, Coventry University; Dr Giles Newton, editorial team manager at the Wellcome Trust, and Victoria Lambert, chair of the MJA.
The MJA's awards principal sponsor for the Summer Awards is Boehringer Ingelheim; other sponsors are AbbVie (formerly Abbott Laboratories), Eli Lilly, GlaxoSmithKline, Merck Sharpe & Dohme, Roche Products, and Astellas.
Main Image: