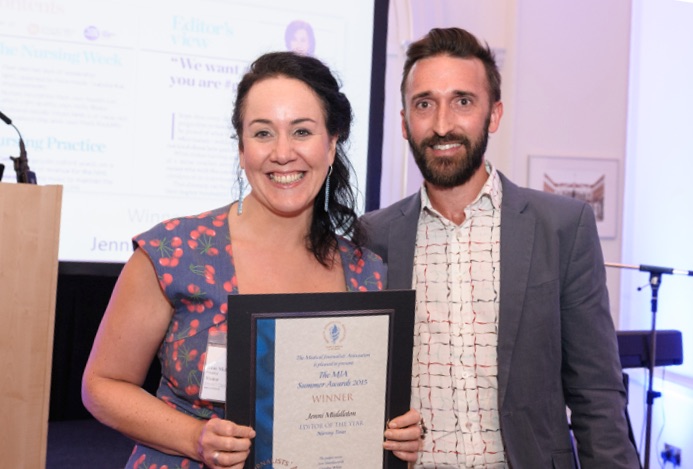 Jenni Middleton of the Nursing Times has been crowned Editor of the Year at the 2015 MJA Summer Awards.
Judges said she had 'demonstrated an impressive record in transforming the fortunes of the publication and its brand, as well as providing lively, thought-provoking, and relevant content for the readership'.
BBC health correspondent Nick Triggle (bbc.co.uk) beat off stiff competition to win the new award for Blogger of the Year. The hotly contested category was so tight that all three other short-listed entrants —  Jerome Burne (healthinsightuk.org), Katie Silver (science alert.com) and Richard Lehman (thebmj.com) — were commended by the judges.
Sarah Boseley, of the Guardian, made it a double by winning Staff Journalist for a General Audience for the second year in a row for her pieces on ebola, ketamine and legal highs. The winner for staffer for a specialist audience went to Helen Thomson of the New Scientist for articles on virtual embryos, experimental use of blood transfusions to combat dementia and a mapping babies' genes at birth.
Prolific freelancer and LGBT editor of the Huffington Post, Patrick Strudwick, won Freelance Journalist (general audience) for powerful pieces for the Indepenent on rape as a weapon of mass destruction anda the fall-out of a homophobic attack and an article for the Guardian on the potential of a TV soap opera to stem the rise of HIV in young gay men.
Former health editor of The Sun, Jacqui Thornton, took the prize for Freelance Journalist (specialist audience) for pieces for the Nursing Standard on Burkino Faso's fight against malaria and vaccination in Tanzania and a Health Service Journal article on ebola.
Liz Tucker from Verve Productions won Broadcast Journalist of the Year. The Digital Innovation award went to David Swan of Pulse for the Pulse Toolkit and Alex Matthews-King made it a double celebration for Pulse by picking up the Story of the Year (2015 General Election).
Matthew Hill of the BBC won Regional Journalist of the Year and Will Hazell of the HSJ took the prize for Young Journalist.