In the unlikely event that any MJA member might be tempted to write about a self-styled health expert by the name of Anna Victoria Rodgers, aka Miss Eco Glam, let me share a little Twitter exchange.
It started when I saw this: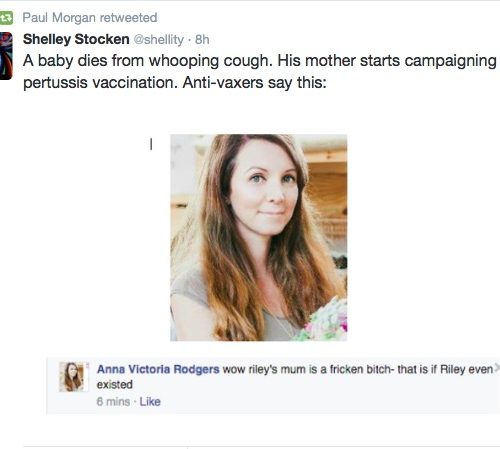 Yes, you read that right, she trolled the mother of a child who died because he was too young to be vaccinated against a totally preventable disease. Nice, hey?
So I took a look at her timeline and found she'd written a book all about detox — though personally I think the Twitter crop  of the cover is closer to the mark. And I couldn't resist a tweet of my own:
And so began one of those exchanges that make you either love, or loathe Twitter. This isn't the whole blow by blow, but you get the idea:
But Ms Rodgers has her own take on credibility and research. In her parallel universe the WHO are pharma shills profiteering from killing kids and Andrew Wakefield is on his way to beatification
Ms Rodgers has now gone mute — and l sincerely hope she stays that way. But if this odious piece of pond-slime does starts trolling grieving parents again, I'll be back.