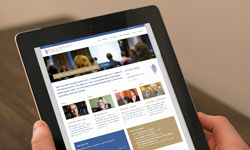 This press release is being distributed as a service to members.
Wouldn't you want to know if your student daughter or son were prescribed drugs for depression?
An article in Prescriber magazine this week (3 Nov 2015) tells the story of university student Emily Barrington, who died of an overdose two months after being prescribed Prozac, without having been suicidal before.Her family and housemates were unaware she was taking the drug, or of the increased risk of suicidal thoughts. If they had been, they could have taken steps to check on Emily.
Right now, doctors face confidentiality issues if they prescribe antidepressants because they were taught not to discuss patients with families or caregivers.
This is especially tricky for one group of young people for whom life is becoming increasingly stressful – students. If they are prescribed antidepressants, research shows the under-30s have an increased prevalence of suicidal thoughts in the early stages such treatment.
Now, however, the pharmaceutical industry, six Royal Medical colleges and the General Medical Council are advocating that doctors tell families and caregivers when they prescribe the drugs.
Families need to know when such serious drugs are being given, so they can watch over their children – and prevent more tragedies like Emily's.
Authors of the article in Prescriber (http://www.prescriber.co.uk)
Professor Janet Krska. Email:
Millie Kieve. Email: . Tel: 07949 005360
Millie Kieve is Chair and Founder of APRIL
Adverse Psychiatric Reactions Information Link
Charity registered in England No.1072305