Clare Bostock
I am an NHS Consultant Geriatrician. I work in urgent care settings in the hospital, and in people's own homes in a Hospital at Home service. I have an interest in maintaining and promoting work-life balance and this has been a feature for some of my writing. I write to relax and to share educational messages with others. I have written blogs and articles for a variety of organisations including the British Medical Association, the British Geriatrics Society and the Royal College of Physicians of Edinburgh.
Ellie Broughton
I have 10 years' experience writing about mental health and wellbeing for titles including The Guardian, the Huffington Post, Lifehacker, BPS Research Digest, patient.info, The Independent, the i paper, Refinery29 UK and Vice UK.
http://elliebroughton.net/examples-of-health-feature-articles/
Alexandra Thompson
I have been a health journalist for almost a decade. Since graduating from the University of Leeds with a biology degree, I have worked in B2B, pharmaceutical and consumer editorial journalism. I am the only health reporter at Yahoo News UK, having left MailOnline as a senior health reporter. I have experience filming videos and speaking on radio.
Zak Uddin
I am a full time NHS General Practitioner, living and working in the North West. I have had the privilege of writing for the Northern Echo since October 2015, initially composing ad hoc pieces on medical issues of current relevance. I was delighted when the then sub editor, Nigel Burton, now group editor of the North East arm of Newsquest, offered me a weekly page in the Northern Echo, York Press and Bradford Argus & Telegraph.
I now produce a weekly article published across these, the Bolton News, Dorset Echo, Oldham (Lancashire) Telegraph, Southampton Echo and Wigan Observer.
Writing gives me an outlet to express my understanding of medical topics in a way that I hope readers not only find educational, but also interesting and thought provoking.
The majority of my articles are on my website, www.doctorzak.co.uk, with those since 2017 under the ""Newsquest"" tab. I am always looking for new writing opportunities and can be reached directly through my website."
Graham Lawton
Graham Lawton is a staff writer and columnist at New Scientist, specialising in biomedicine, biotechnology, nutrition, environmental science, climate change, biodiversity, behavioral science and evolution. He has a BSc in biochemistry and an MSc in science communication, both from Imperial College London. Since March 2019 has mostly been covering the covid-19 pandemic.
He has worked at New Scientist since 2000 in various roles including features editor, opinion editor, deputy editor, executive editor, acting editor and now staff writer. He is the author of two books: The Origin of (Almost) Everything and This Book Could Save Your Life.
Alison Moore
I am an award-winning freelance news and features writer, specialising in healthcare/the NHS. I work for Health Service Journal, Nursing Standard, Healthcare Manager and Pharmaceutical Journal, among others. As well as writing, I run roundtable discussions, set up webinars and organise judging panels. As well as journalistic qualifications, I have a teaching qualification and my first degree was in politics, philosophy and economics – all of which are surprisingly relevant when writing about the NHS!
Rosa Furneaux
"I am a global health investigative reporter at the Bureau of Investigative Journalism. Based in London, our team carries out collaborative cross-border investigations into systemic global health issues. My recent work has focused on vaccine contracts, supply chain issues, and human rights abuses during the Covid-19 pandemic.
Previously, I have reported for investigative US news magazine Mother Jones, and the Thomson Reuters Foundation. My work has been published in national and international outlets including The Guardian, The Telegraph, The Independent, The San Francisco Chronicle, The Mail & Guardian, El Pais, Il Fatto Quotidiano, STAT News, Ojo Publico, and others. I received a master's in journalism from the University of California, Berkeley, where I specialised in photojournalism and narrative non-fiction writing."
Tom Whipple
For the past decade I've written about science for The Times. Before that I was a features journalist, but when my editor learnt I'd studied maths at university it was inevitable I'd end up on the science beat. In my daily work I cover everything from asteroids to haemorrhoids, from venus to viruses (with a lot more of the latter in recent months). The medical part of my brief is where science most obviously intersects with my readers' lives – and it's the part of the job I take most seriously.
Gabrielle Pendlebury
Dr Gabrielle Pendlebury is a child and adolescent consultant with a particular interest in offending in the adolescent population and the assessment and treatment of neurodevelopmental disorders. She is also a medico-legal adviser and writes regularly about issues affecting healthcare professionals. She particularly enjoys co-authoring articles, so please get in touch if that appeals.

Hope Docherty
"I am interested in writing about sexual health, menstruation and chronic illness. My current focus is Endometriosis, PCOS and menstruation with a major focus on women's chronic illness .
I am a Cardiff University student currently working with the Student Union as lead writer for their 'Period Dignity' campaign, destigmatizing menstruation and making period products available to all."
https://www.cardiffstudents.com/your-voice/campaigns/perioddignity/?hp-banner
Sue Mitchell
BBC Radio 4/World Service documentary producer and investigative journalist.
Recent programmes include The NHS Front Line, The Coronavirus Front Line, Born in Bradford and the podcast series, Girl Taken. Past awards include Campaigning Journalist of the Year in the British Press Awards and the Sony Gold award for a series following the work of the West Yorkshire Coroner.
I am interested in stories behind the headlines and at looking at the impact of policy changes on the lives of those most affected by them. A lot of my recordings have focused on the link between deprivation and health outcomes, particularly in the Yorkshire area.
Matt Reynolds
Matt Reynolds is the science editor at the UK edition of WIRED magazine. He writes and edits online features and is particularly interested in gene-editing and public health. Before joining WIRED UK he was a reporter at New Scientist magazine. He recently wrote a book about the future of food, which will be published by Penguin in September 2021.
https://www.wired.co.uk/profile/matthew-reynolds
Matthew Midgley
Matt is a Media Officer at the Wellcome Sanger Institute and helps to promote the Institute's exciting genome research to the wider world. He has over 10 years' experience as a storyteller across the commercial, cultural, academic and not-for-profit sectors. He has written plays for theatres, produced short films for banks, and made sense of complex information for a whole host of organisations.
Elaine Francis
Elaine Francis is a Registered Nurse with 18 years of experience in healthcare. She began writing professionally to follow her passion for realistic medical communication; she loves translating medical jargon into accessible language for the people who need to understand it most.
Her professional aim is to create intelligible and attainable information for the public. The role of healthcare professionals now needs to incorporate pragmatic modernity; this is a unique and critical time for empowering people to find and judge credible medical sources. She never wants to hear another doctor or nurse complain that a patient has Googled their own symptoms.
Elaine is still nursing part-time on a busy cardiology unit in an emergency care hospital, and is working towards a Master's Degree in History of Medicine at Newcastle University
When she's not working, she spends most of her time telling her children to be tidier.
John McDermott
Chief Africa Correspondent for the Economist. Ex-Public Policy Editor for the same newspaper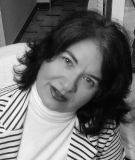 Rosalba Mancuso
I am a freelance journalist who specializes in Health and Medicine. I started my writing career in 1994, in Italy, covering Health, Science and Nutrition for printed publications and online magazines, such as life science magazine Vita, Affari Italiani, Giornale di Sicilia and Quotidiano di Sicilia. My detailed health news allowed me to work as a PR assistant at Biomedical, clinical analysis laboratory in Sicily, and as a freelance medical writer for companies all over the world, such as Pharmamedic World Ltd, London, and Cardiophoenix, Toronto, Canada. My international background is certified at the University of Washington and showed on my health magazine Modernhealthinfo.com.
Catarina Carrão
I am a Biochemist, and worked for more than a decade in biomedical research in different international institutions (Charité, Yale University, etc..). Innovation and creativity always helped me solve technical problems efficiently; and, the passion and drive for biomedical studies, led me on a path of adventure, where learning new languages was just part of it. Throughout my work as a researcher, I was able to understand the importance of writing and wording, not only in written form to peers but also to deliver valuable information to the grant reviewer, or the consumer. Hoping around food technology, neuroscience, cardiovascular and oncological research created in me an idea of biomedical science that bonds through life and laughter. As an example, I was honoured to receive the European Science Slam award, and was recently nominated Young Science Journalist of the Year by the ABSC. My way of communicating to a lay audience, testifies my creativity, enthusiasm and ability to communicate biomedical science effectively.
Manuela da Costa-Fernandes
I am a lapsed MJA member returning after taking a career break. I have been a senior media & PR officer at Parkinson's UK since August 2021. My caseload includes, the charity's Excellence Network, a network of 8,000 health and social care professionals, grant-funded research (not Virtual Biotech), features, and writing opinion pieces. Previously, I worked for the Royal College of Midwives' press office for eight years. I have worked for Oxfam's In-House studio, Oxfam, various Oxford-based charities in a comms role, the SVP, and have worked freelance. I worked as a journalist in the US for 12 years and was a Henry J. Kaiser Family Foundation Fellow in Urban Public Health reporting. I worked at newspapers with circulation ranging from 50,000 to 700,000, including The Atlanta-Journal Constitution, The (Cleveland) Plain Dealer, the New Haven Register. Born in Uganda, I am a Ugandan-Asian refugee of Goan extraction.