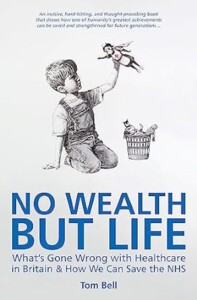 Review by MJA member Fiona Milne
Tom Bell writes about his vision of a fairer society. A personable, informed, well researched account of our society's health and wellbeing. It is a long book, 400 pages and 40 chapters and daunting at first; three quarters of the way in, I was despairing of any answers that were lauded in the title and front cover.
But then the author delivers spectacularly with a 12 step plan of action. Are his solutions realistic, or feasible? Maybe not all, but they give hope. I don't agree with them all, and he acknowledges that there are other conclusions to be drawn from his evidence, but from his graphic personal and researched examples of a broken Britain – one that we have probably all faced in the last two decades –he offers evidence that can start a positive conversation.
Bell believes that improvement starts from understanding of the real situation that we face. And most of the book describes in graphic detail the history and current situation within the NHS and care services, coming from his personal and business experience and wide- ranging interviews.
In the many detailed chapters he demonstrates the facts well. We know that many people die avoidable deaths – 50 times more than knife wielding crime per year -and many babies too. 70% of the older people who are cared for in private nursing and residential homes now have dementia or severe memory issues. The NHS is largely short staffed, under funded and poorly managed. Our mental health service provision is atrocious and exists to pick up all the broken pieces from society.
However, in a society where GDP (Gross Domestic Product) is king, we applaud the reserves of money within both charity and the public sector finances which could be used to our benefit if spent wisely. Foundation trust status, for example, is achieved only via financial targets, and separated from the assessment of patient wellbeing. So a "successful" Trust is driven to make a financial saving each year from its budget and lauded for it. And yet that reduction in spend has disastrous consequences in patient care. And this is tolerated, ignored, and no lessons learned from it, because, in his view the senior managers are looking the wrong way, deaf to reality in order to survive.
So, what to do? He suggests that we – the service users – decide the purpose of society, the purpose of the National Health Service, and only then restructure it to focus on these goals. We must recognise that there isn't an "it", the NHS is a nebulous concept that we all love, but means little. We can learn from the private sector, and from the success of global collaboration. We must acknowledge the ongoing destructive nature of unfetted capitalism and in contrast how co-operation has been the driving force so far in our species survival.
This book is fundamentally about what humans mean to each other. Tom Bell asks us to question how we connect, cooperate and interact with each other. How we treat and care for each other. And therefore how we can, and should, redraw our health and wellbeing services. Read the book and start a conversation.
Book Details:
ASIN ‏ : ‎ B0C9S8W29G
Publisher ‏ : ‎ Independently published (4 July 2023)
Paperback ‏ : ‎ 407 pages
ISBN-13 ‏ : ‎ 979-8397292146
Buy the book from Amazon (other outlets are available) £14.99