The annual NHS conference in Liverpool started off with a pretty strong debate. Media experts were discussing all the hot topics across the country and continent, exploring the areas for improvement within health and social care departments.
From what I've seen so far, the place is filled with health experts from all over the UK and beyond, and it is estimated that there will be around 2,000 health and care leaders, decision-makers, partners and stakeholder attending across the two days. Enough to make a difference across different sectors in the NHS, and get inspired for future plans. It was my first time attending such big event and it took me a while to even get my head around the map and locate the rooms. Apart from not being able to work out the coffee machine and my laptop breaking, the Conference itself was outstanding and I couldn't be happier to be here.
There are still plenty of areas which need to be improved: social care, IT, reducing occupancy (we all know about the 'bed-blocking' stories), funding, shortage of staff and so on. The Conference itself will try and tackle all sorts of issues and come up with solutions. When it comes to mental health, Laura Anstey, from Medical Health Network told me funding is definitely the biggest challenge.
"There's been so much progress in mental health, particularly around the stigma and in raising awareness of the issues. It is also amazing that the Royalty also got involved. We are now actively working towards developing digital platforms where people will be able to take online therapies and feel comfortable talking about everything they are struggling with."
In the opening speech, Chair of NHS Confederation, Stephen Dorrell made an interesting point, saying: "None of us can work in isolation and that we need to engage members in order to help each other. Health care is a people business and we must ensure that everyone has the right skills and opportunity. The staff needs to represent diversity."
The whole point of the NHS Confederation, and the reason for this Conference, should be that "uncomfortable facts are understandable and acted upon." he added.
The debate was intended to kick-start collective change. Participants included some already familiar faces from major media outlets — Victoria Macdonald, Channel 4's Health and Social care correspondent, and MJA member; Health Editor at The Times, Chris Smyth, also a member of the MJA, and a former Communicators Director of Vote Leave campaign, Paul Stephenson.
Paul mentioned the fact that the £350 million towards the NHS, promised during the Brexit campaign, was something that he believes will be delivered in the future, just not straight away. However, he also stressed that reforming social care might be proposed, but he does not see that being a priority in Parliament as everyone is focused on Europe and Brexit.
Times Health Editor, Chris mentioned scepticism about funding and that "NHS will need more money every year and no one wants to face that for now and plan ahead".
As Victoria from Channel 4 News pointed out: "Just look at the cyber attack and how little money has been spent on IT."
Can the NHS be protected in a post-Brexit health and care system?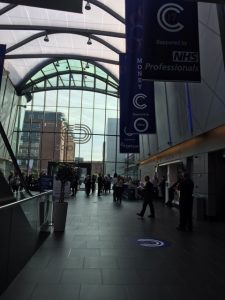 The NHS Brexit strategy, and what more needs to be done in a post-EU health and care system, have been hot topics during @Confed17. A panel discussion with CEO of NHS Confederation, Niall Dickson; Danny Mortimer from NHS Employers; Nadra Ahmed, from the National Care Association; Elisabetta Zanon, director of the NHS European Office and Sir Hugh Taylor, former Permanent Secretary at the Department of Health and chair of Guy's and St Thomas' NHS Foundation Trust explored some uncharted waters.
A number of NHS organisations, charities, biotech companies and other key health service players have come together to form the Brexit Health Alliance to support healthcare as the UK leaves the EU. It argues that it is in both Europe and the UK interest to maintain co-operation in research and in handling public health issues. Also, it will propose that the UK government needs to ensure UK citizens' continuing right to receive healthcare in EU countries.
Niall Dickson, from the NHS Confederation, warned: "There is a risk that healthcare will become forgotten alongside the vast number of issues that the negotiators will have to address. It is vital we protect leading reseach so that patients have access to medicines at any time and that there is a co-operation between UK and Europe, protecting all our citizens."
Danny Mortimer from NHS Employers; Nadra Ahmed, from the National Care Association; Elisabetta Zanon, director of the NHS European Office and Sir Hugh Taylor, former Permanent Secretary at the Department of Health and chair of Guy's and St Thomas' NHS Foundation Trust idenitified key issues around shortages and recruitment of nurses, and called for more engagement with the Government.
National Care Association, Nadra Ahmed mentioned how "looking after vulnerable people is at the heart of what we do. Funding is a big issue but we do not have enough workforce. We need to work together to help and grow our workforce."
Director of the NHS European Office, Elisabetta Zanon stressed the urgency of negotiations and importance of the terms of the leave and free trade agreement. "
It is almost a year since the referendum and things have been moving slowly, but Elisabetta identifiecd a number of priorities: EU citizens' rights — their education in the UK, pensions, health, work… Then the financial side, relocation of the European Medicine Agency, approval of drugs, medicines and the EU research programme.
This means that there is a sense of frustration coming from the 27 remaining EU countries and no surprise that there is a lot of work to be done in order for both sides to reach win-win agreements.
The former Permanent Secretary, Sir Hugh Taylor added that there are public health and research funding issues, but they will make sure to work with EU partners still.
"Don't look backwards, soft or hard Brexit, we need to focus on the people and make sure to increase and improve social care." Nadra advised.
Bruna Tomsic is the inaugural winner of the MJA-NHS Confederation student journalist bursary. Bruna, who is originally from Croatia, is studying at the University of Northampton.